Once we've finished shooting and editing your new listing's photos and videos, we will send you a link to download them. Many people are unsure of what to do with this link, so we have created step-by-step instructions so that you can quickly and easily view and download your files. 
Step 1: 
Once you receive the email from Key Image Works that includes your Dropbox download link, you will either click the link or copy and paste it into your web browser. The link leads to DropBox, which is just a secure place where your images are stored. You can use this link to access your photos and videos at any time. You can also use this link to share the photos and videos with your clients or colleagues. 
Step 2: 
Once you get to Dropbox, review the photos and videos to make sure you are happy with everything. If you need any changes, simply respond to the email to let us know! 
Step 3:
Once you're happy, it's time to download the photos and video to your computer. Click the download button in the upper right corner of the browser window.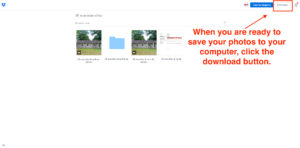 Step 4: 
At this point, you will be asked if you want to allow downloads from Dropbox to your computer. Confirm that you DO wish to download files from Dropbox. You will then be asked where you'd like the photos to be saved on your computer. Most computers default to a folder called 'Downloads' or 'My Downloads'. Make sure you note where the photos are saved on your computer so you can access them easily in the future.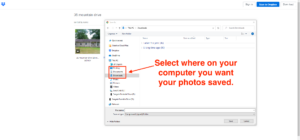 Step 5: 
Now the photos and videos are stored on your computer, and you can upload them on social media, MLS, or wherever you like. 
Click HERE for how to upload them to your MLS. 
Note:
You have two versions of photos: Web & [Property Address]
Web: Web photos are best used on the internet. They have been optimized to load quickly and not use up too much space on a website. Don't worry- the quality of the photos has not been compromised. 
[Property Address]: The photos in the folder named for the property's address are full resolution and better for print marketing materials such as flyers. 
You also have two versions of the video: Branded & Unbranded. 
Branded: This version has your name and logo on it and can be shared on social media. 
Unbranded: This version does NOT have your name or logo, and must be used on MLS. You can upload this to Youtube, then to MLS. 
If you are using a Mac, Click HERE for Instructions
Click HERE For how to upload videos to Youtube.
If you need instructions on how to upload your photos to MLS, see our guide HERE
https://www.keyimageworks.com/wp-content/uploads/2020/12/User-friendly-Website.png
1260
2240
Amanda Young
https://www.keyimageworks.com/wp-content/uploads/2020/03/key_image_works_Logo-300x128.png
Amanda Young
2020-12-04 17:06:24
2020-12-22 02:50:24
How to Download Photos From Your Dropbox Link On a PC